Crushers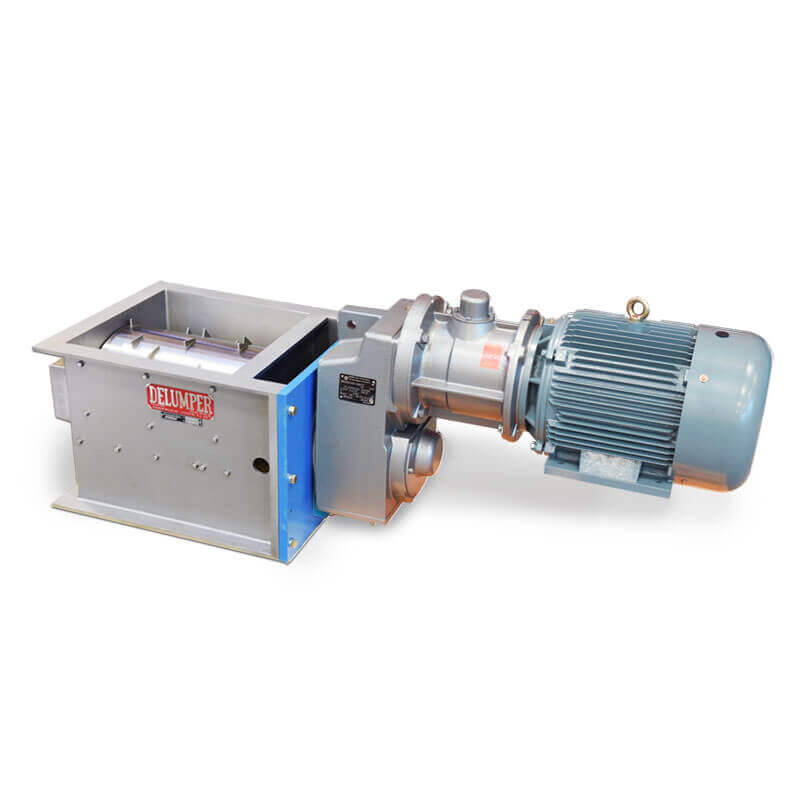 Delumper L
The DELUMPER® L series crushers reduce products to a desired output size with a positive, once through, chopping action. Cutting teeth mounted to a smooth drum rotate through sizing combs to process agglomerates and reduce over-sized particles to their basic grain size without over-grind, heat rise or fines.
DELUMPER L lump breakers reduce lumps, crush minerals, improve product consistency, facilitate mixing, drying and conveying, and keep process lines running smoothly. These units have extraordinary processing capabilities on a wide range of materials including chemicals, sugar, food, minerals, urea, ammonium nitrate, salts, colors, plastics, pharmaceuticals and more. DELUMPER L Series crushers typically employ no screens.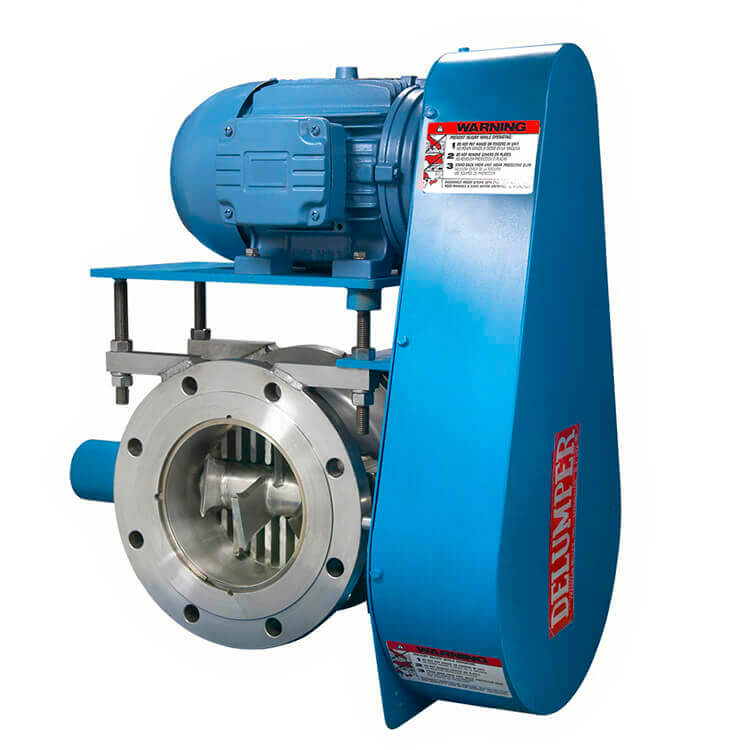 Pipeline Delumper
The PIPELINE DELUMPER® is a proven in-line lump breaker that chops, shreds, disperses and suspends solids directly in fully enclosed pipe systems. This straight-through ultra-compact unit rectifies flow properties of heavy sludge, slurries and solids-laden streams. The PIPELINE DELUMPER alleviates blockages, works the stream to free flow and improves processing. It can prevent damage to pumps, piping, valves, nozzles and downstream equipment. This unit has proven itself as a valuable problem solver in process systems worldwide.
The ultra-compact PIPELINE DELUMPER is designed for easy installation in straight-thru, liquid, pneumatic or gravity systems. This unit aggressively reduces solids up to the full pipe size with a self-clearing, self-feeding mechanism. It is supplied with an effective seal system housed in an easy to maintain bearing/seal cartridge. This cartridge design eliminates the need for plant personnel to handle delicate seal components. A choice of seals is available.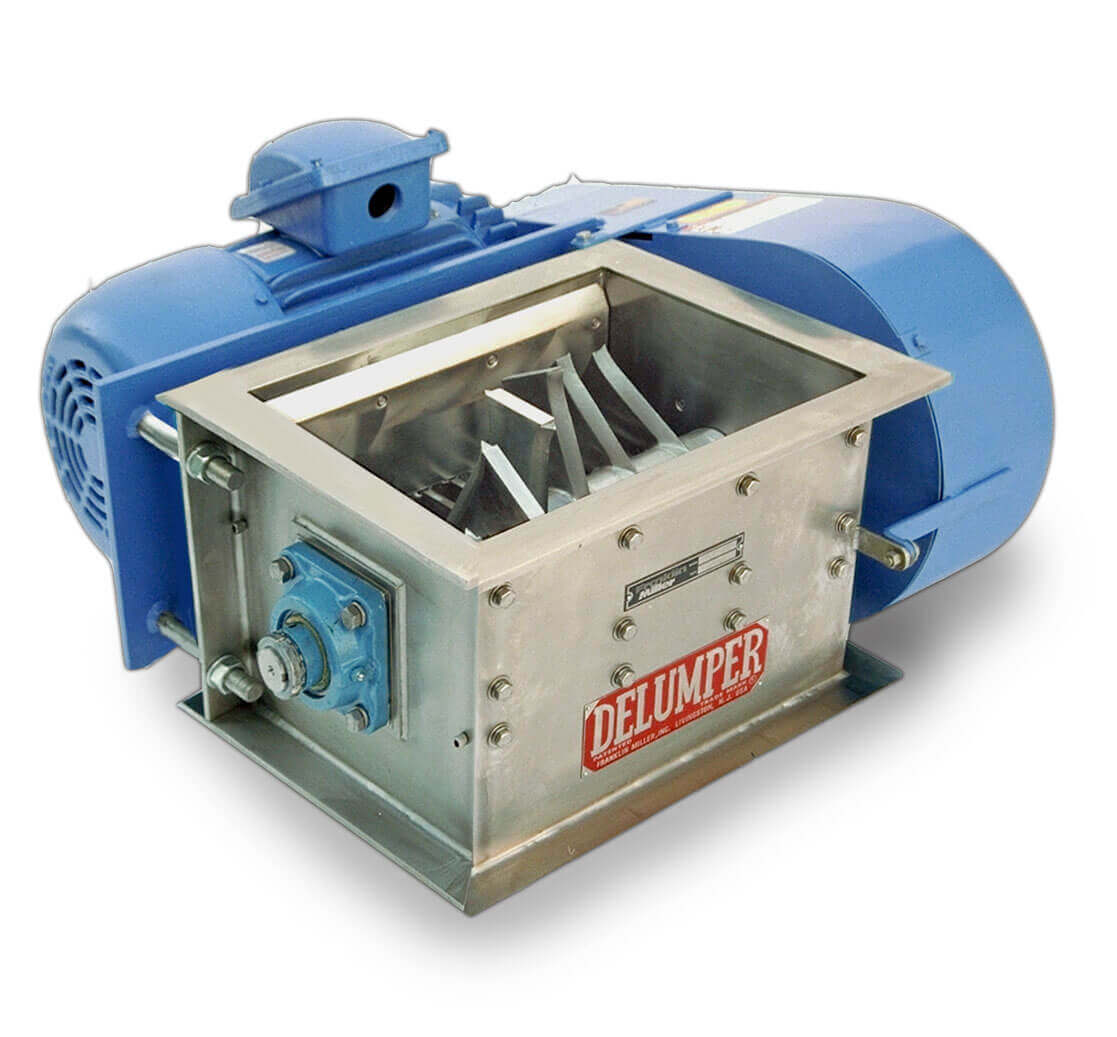 Delumper LP
DELUMPER® LP crushers reduce hard or soft, heat sensitive, sticky or wet agglomerates and lumps at high volume. These straight-through units employ extended cutting teeth that rotate completely through a heavy bar cage. Oversized solids up to the unit's full input opening size are reduced by this powerful processor. With each rotation, the teeth clean the slot openings making the unit automatically self-clearing. Optional hardfacing is available.
The DELUMPER LP can handle wet, sticky, dry, hard or soft substances. It tears through chemicals, lumps, agglomerates, ore, filter cake, ash, sugar, food, plastics and more. The units are available in various sizes with single, dual or triple shaft configurations for capacities up to 800 tons / hr.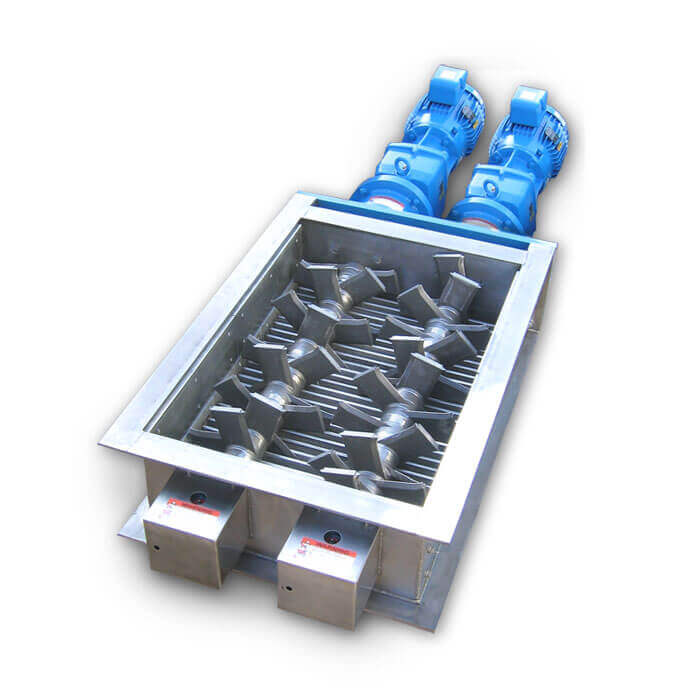 Delumper Multi-Shaft LP
The DELUMPER® Multi-Shaft LP consists of dual, three and five shaft crushers that process massive quantities of lumps or agglomerates with a powerful crushing mechanism. This mighty processor reduces dry, sticky, caked or wet solids to a desired output size without overworking, churning or heating the material. These lump breakers feature individually replaceable, bidirectional cutter teeth, which are carefully stacked, balanced and arranged for optimal feeding on two shafts. The teeth of the crusher rotate through a heavy bar grating, which creates a low friction, self-clearing crushing action.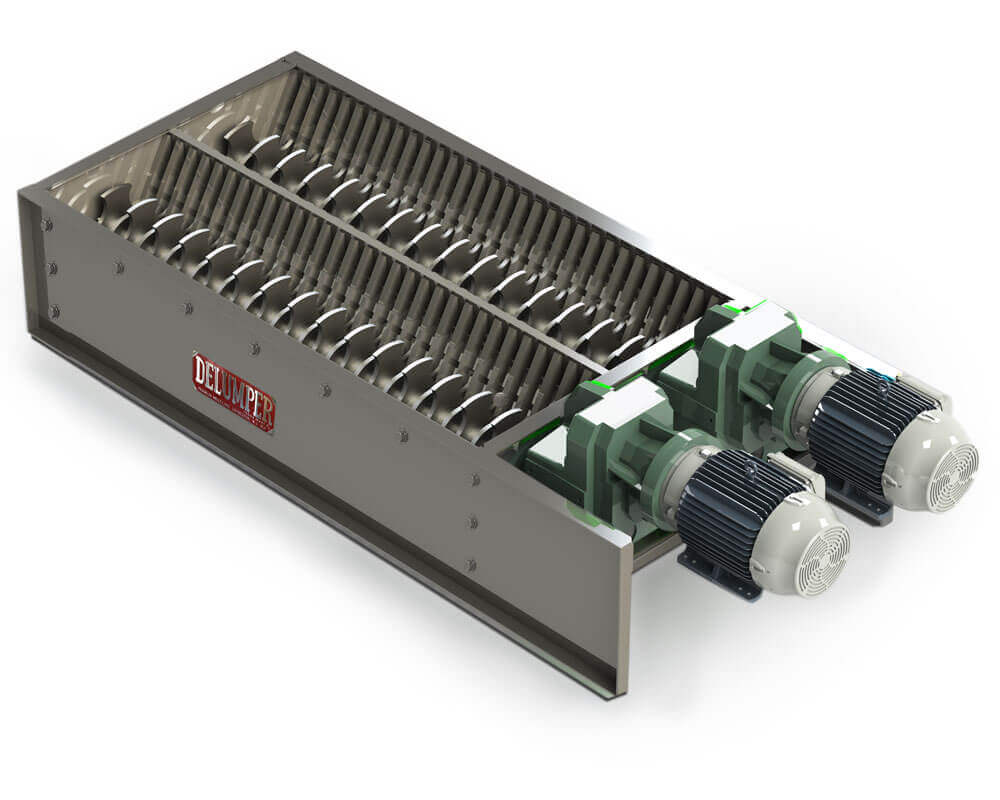 Delumper HV
The DELUMPER® HV is a high-volume crusher that reduces agglomerated material with a one pass crushing action without overgrind or churning. This unit employs a heavy-duty cutting rotor with a heavy "V" shape bar cage. The HV design allows free-flowing material to pass straight through while directing oversize lumps and agglomerates to the crushing element to be reduced to size. The crushing mechanism employs no screen so maintenance is kept to a minimum. With its efficient design, the HV minimizes the motor size and power consumption.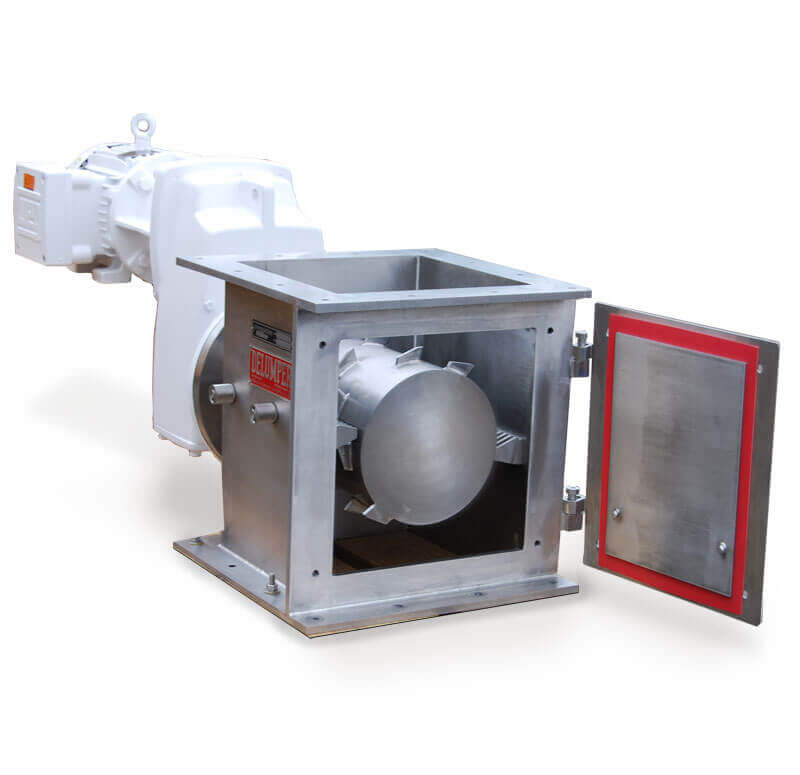 Delumper S4
The DELUMPER® S4 series sanitary crushers feature precision operation, easy interior access, clean-in-place capability, quick changeover of cutting elements, and a meticulously polished finish. Their cantilevered drive and convenient side door provides fast and easy access to the interior of the cutting chamber. This eliminates the necessity of removing the drive in order to access or remove the interior cutting elements.
The S4 features a smooth and quiet direct drive. The unit has no fasteners within the unit chamber. It's available in AISI 304L Stainless Steel as well as 316L Stainless Steel.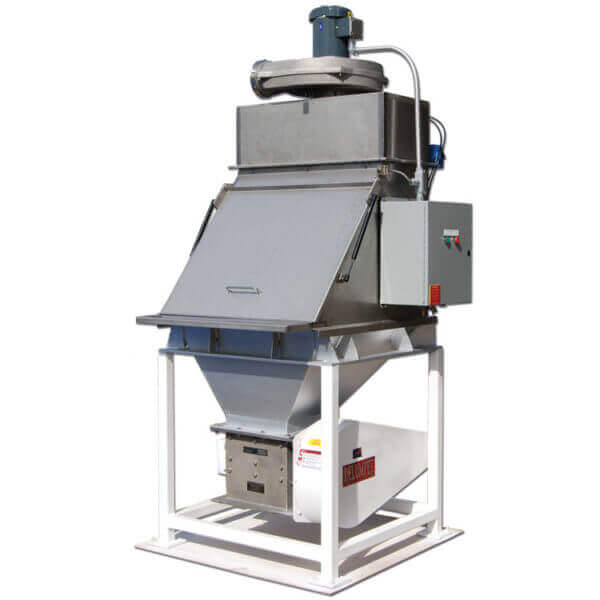 Delumper Bagstation
The DELUMPER® BAGSTATION is a pre-engineered bag dump system designed for efficient unloading and conditioning of lumpy bagged solids while efficiently introducing them into a production process. These units are designed to facilitate convenient manual opening of small to medium sized bags without creating a dusty environment. But what's more, this system incorporates a built-in DELUMPER processor to reduce agglomerates and lumps and facilitate uniform product flow while the bags are being emptied.
The included DELUMPER DC1077L features a heavy body construction with 12″ x 12″ throat opening, a 5 HP 230/460 v. 3 phase motor and drive, smooth interior finish, individually replaceable teeth, shaft seals and more. The unit controls feature all-in-one operation, an emergency shut-off switch, optional VFD to help control feed rate and on/off led indicators.
The DELUMPER BAGSTATION features durable stainless steel construction, a grating platform for bags, discharge hopper, DELUMPER processor and control system. This unit can be provided as a complete processing solution. Options include bag slitting knives, special alloys and finishes, bag compactor, discharge screw conveyor, load cells, explosion-proof components and more.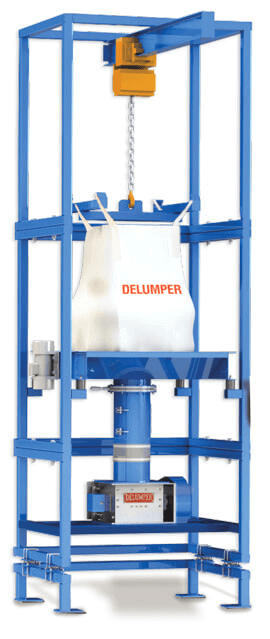 Delumper Bulk Bag Unloader
The DELUMPER® Bulk Bag Unloader (BBU) is designed to efficiently discharge bulk bags (FIBC) and Super Sacks®, reduce agglomerates and solids to a smooth free-flowing condition in one ruggedly constructed, integrated system. The first stage of the DELUMPER BBU features the unit's live fluidizer which agitates the material and breaks the bonds between particles allowing it to discharge freely.
Its design features a powerful gyrator that delivers high energy evenly to the contents while having no pinch points or dead zones. As a result, this is a system that delivers a high level of unloading efficiency.
In the second stage of the BBU unloader, a DELUMPER L or DELUMPER LP crusher efficiently reduces lumps as they are discharged to assure the product is optimally conditioned for end use, conveying or further processing.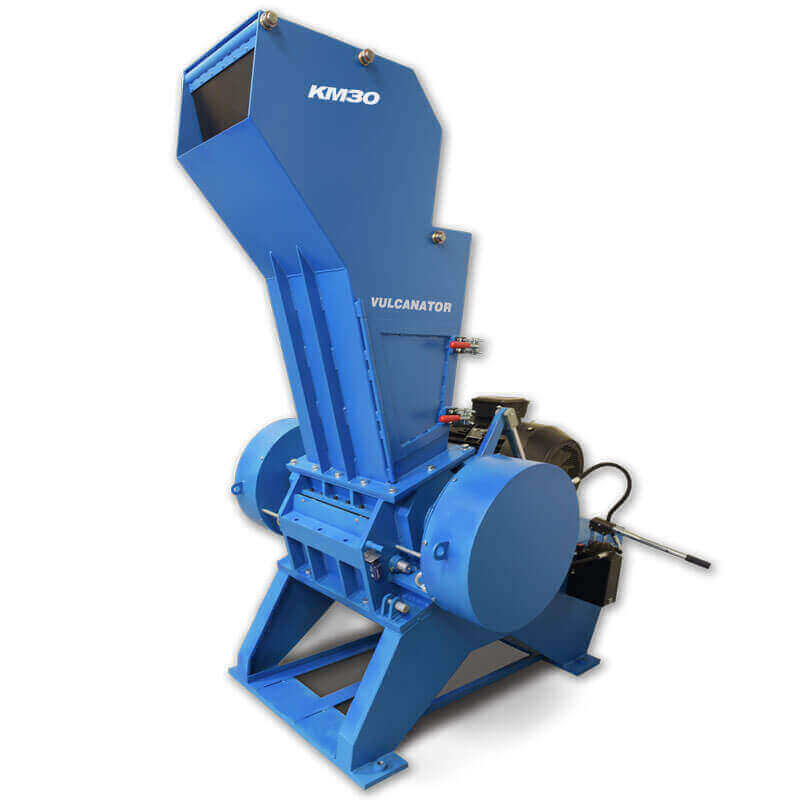 Vulcanator
The VULCANATOR® rubber granulator is specially designed for the rubber and heavy plastics industry. This unit has the unique ability to reduce whole 75 lb. bales of synthetic or natural rubber into small particles. This powerful processor can thus drastically reduce processing time resulting in dramatic cost savings.
The VULCANATOR can handle all types and shapes of vulcanized or non-vulcanized, natural or synthetic rubber including full bales, sheets and chips.
This unit features a unique low friction design that quickly reduces rubber into small bits without the heat rise associated with other designs that require cooling devices. Material is fed into the unit via conveyor or manually. Rugged rotary knives pull the material into the cutting area and disintegrate the slabs to a size fine enough to pass through a special sizing screen. The reduced particles are then expelled from the bottom of the unit.