Cornell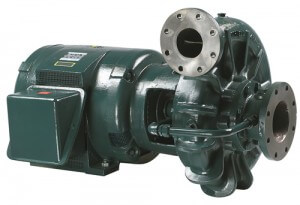 Clear Liquid Pumps
Cornell's clear liquid pumps are known around the world as the most durable, most reliable, highest efficiency pumps in the industry. They can be found in a variety of applications in the Agricultural, Industrial, and Municipal markets and are available in Close-Coupled, SAE Engine Mounted, Horizontal, and Vertical Configurations.
The unique pushed-out rectangular design features of the Cornell frame will let you know it is Cornell pump.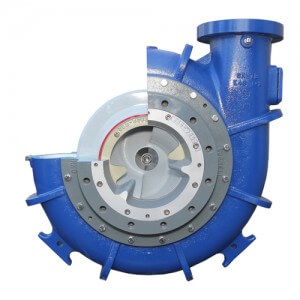 Cutter Pumps
Cornell cutters address ragging and plugging. The Blade Cutter allows for minimal efficiency loss, with the Waste Warrior tackling aggressive plugging. Installed pumps see dramatic increases in up-time, with thousands of dollars a year in savings. Cornell can install the cutter assembly in more than 30 pump models.
The recognizable design incorporating mounting surfaces rather than mounting feet lets you know it's a quality Cornell Pump frame supporting a robust Cornell pump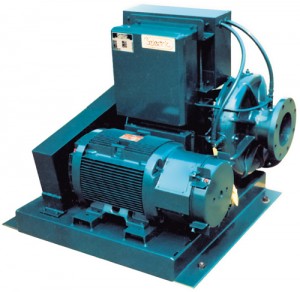 Hydro Turbines
Industrial plants, small municipalities, and farmers are tapping available resources to produce electric power as a revenue source or a means to reduce overall energy demand. Turbine assemblies from Cornell Pump make it feasible to generate power from water sources such as wastewater, excess pump head, or natural streams.
Heads as low as 50′ and flows as low as 90 GPM can produce usable energy. Cornell's innovative turbine design results in unexpectedly high performance.
Cornell turbines are available in a wide range of configurations and mounting styles, are easy to install, and require little maintenance.
Reaction turbines are ideal for applications where there is a steady, consistent flow. They are highly efficient and work well when there is a need for positive outlet pressure (such as force mains). In some cases where variable pressure is a concern they can be used with a flywheel or quick opening bypass valve in case of grid loss. Reaction turbines are low-cost compared to Pelton turbines.
Pelton turbines are excellent for variable flows and require no flywheel or quick-opening bypass valve in the event of grid loss. They must be exhausted to the atmosphere and are more expensive than a reaction turbine.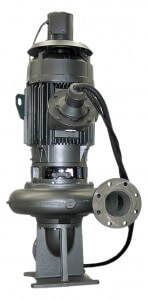 Immersible Pumps
The immersible motor can operate in flooded conditions, submerged up to 30 feet, for up to a two-week period. The proven concept combines safety of a submersible with the ease of maintenance of an off-the shelf motor. The basic design incorporates a premium-efficiency, inverter-duty TECB (totally enclosed, blower-cooled) motor. If the motor becomes submerged, the blower shuts down without affecting the main motor. While submerged, the media cools the motor just like a true submersible. A special conduit box is used to prevent water leakage into the motor. The motor is designed to prevent infiltration of water along the shaft and into the motor using a patented hydro-seal design.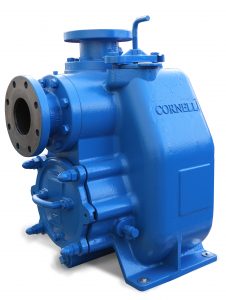 Self-Priming Pumps
Cornell's popular self-priming series has the best efficiencies of any self-primers on the market. Designed with Cornell's patented Cycloseal® sealing system to keep the seal area clear of debris, and ruggedly constructed for years of dependable operation with minimal maintenance. The unique case design immediately identifies it as a Cornell pump. The higher efficiency and lower maintenance requirements of Cornell's self-priming pumps can translate into thousands of dollars saved in fuel costs, labor, and repairs over the life of the pump.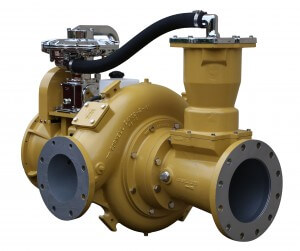 Solids Handling Pumps
Cornell offers a wide range of solids handling pumps, from 1.25″ though 30″ discharge size, to handle the most difficult solids applications. Cornell's solids handling pumps can be found in a wide range of applications in the Municipal, Agricultural, and Industrial markets; and available in a variety of mounting configurations including close-coupled, SAE engine, horizontal, and vertical mounted. Featuring enclosed, semi-open, and delta impellers, and a variety of construction materials, Cornell solids handling pumps operate up to 40,000 GPM.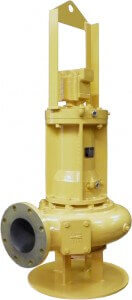 Submersible Pumps
Cornell's Submersible pumps, designed to be continuously submerged in pumpage, maintain superb operating efficiencies and are coupled with premium efficient motors. All come standard with heavy walled volutes for extended life under abrasive service. Cornell's auto-coupling system includes a cast iron discharge elbow, bronze guide claw flange, and stainless steel upper and intermediate guide rail brackets for high quality non-spark operation available.
Municipal
Municipal applications for clear water, waste water, and grey water are met with assurance by Cornell pumps. We've been involved in municipal installations since the 1950s — with our pumps serving in both permanent installations and temporary/emergency fixes. Our new cutter pump is especially efficient in reducing waste water ragging, leading to greater uptime, and a reduction in maintenance costs. Our double volute designs, high heads of 800 feet, robust solids handling capabilities, and patented Cycloseal® design are appreciated by municipal water managers from Irvine, CA to Dubai, UAE.
On Cornell Municipal Pumps, Look for the distinctive appearance of the angular, muscular frame, to know it's a high quality Cornell pump.