Control Systems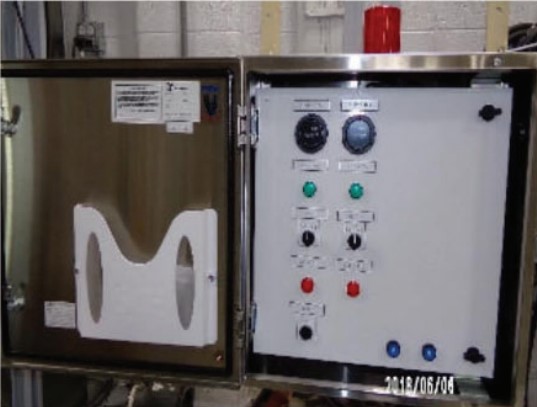 Power Pack Controls
The Power Pack duplex control panels are available in the following 3 phase configurations for pumps not exceeding 28 full load amps per pump. Single-phase configurations available with capacitor and relay kits supplied by customer.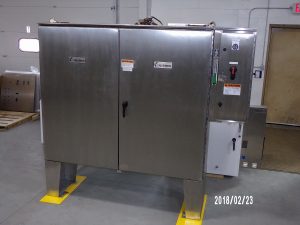 Arc Flash Control Panels
NEMA 3R Type 304 Stainless Steel free standing outdoor enclosure & UPA Power alert to indicate voltage present. Interlocked Compartmental power segmentation & cable management system. Isolated service entrance rated main breaker or fused manual transfer switch with door interlock mechanism. Flanged disconnect handles cabled to circuit breaker enclosure. USEMCO Arc Flash System reduces Arc Flash injury and risk. OSHA guidelines and PPE protection rules should always be followed when testing or trouble shooting the equipment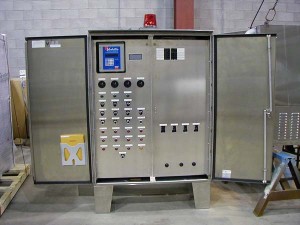 Waste Water Controls
USEMCO control panels are designed, assembled & tested in our factory to provide years of dependable, trouble-free operation for your water or wastewater pumping stations. U-PACK™ panels are provided with high quality components with options available that meet job specific needs. USEMCO panels are built with various control schemes including floats, transducers (submersible or ultrasonic) or bubbler inputs. USEMCO's® application experience creates user-friendly systems with the appropriate indicators for ease in operators control and maintenance.
You tell us the features and functions you would like to have and USEMCO provides the solutions, and backs them up with guaranteed performance and support.
USEMCO Inc. is an UL#508 / 698A control panel manufacturing facility with the capability to label control panels relating to hazardous locations with intrinsically safe extensions.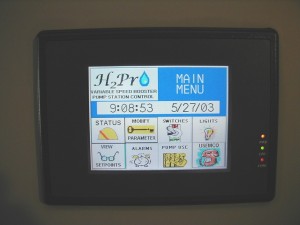 Clean Water Controls
The USEMCO innovative H2PrO is the ultimate design for new and existing applications utilizing up to three pumps. This controller allows factory or field configuration to sequence pumps based on flow, pressure, or both. Signals are buffered by time delays the operator can field adjust. Best of all, the H2PrO is UL approved, SCADA ready and uses non-proprietary hardware.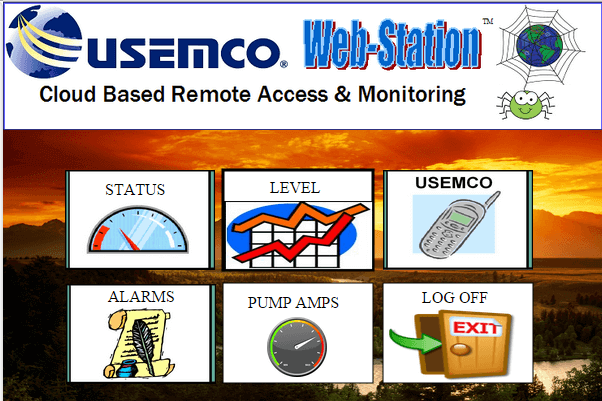 Web Station
Standard Features:
Customer Webpage Interface
Remote Troubleshooting
Several Levels of Security
VPN Tunneling
Local ISP WAN Connection
Optional Features:
Alarm Text Messaging
Alarm Email Messaging
Daily Email Status Reports
VNC Connection to HMI
Data Logging & Trending
WiFi/WLAN
8X DI, 4x AI and 2x DO
Cellular Service
Satellite Service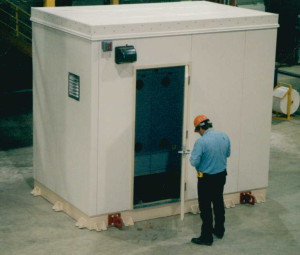 Power Shack
The Power Shack is a factory assembled modular building and platform custom designed specifically for your application. The Power Shack is ideal for motor control centers and large panel applications. The Power Shack is climate controlled and provides a clean, sheltered environment for your employees and controls. The structure arrives completely assembled with all internal components installed and tested. UL 508 and intrinsically safe certification is available.
Sensors & Accessories
Submersible Large Diaphragm Sensors
Moisture Sensor
Alternator
Circuit Breaker
Condensation Heater
General Purpose Relay
IEC Contactor
Intrinsically Safe Relay
NEMA Rated Starter
Narrow Angle Float Switches